The Alfa 600 is a high speed bench-top clinical chemistry analyzer capable of running 400 tests per hour (up to 640 tests per hour with ISE). The Alfa 600 is the solution for the small to medium sized laboratory. For the larger sized laboratory, the analyzer is ideal for special testing and can function as a reliable and easy to use backup system.

Alfa Wassermann B.V. supplies a dedicated line of reagents for the Alfa 600 under the name AlfaTEST. The combination of the Alfa 600 with its own dedicated reagents, calibrators and controls provides you with a high quality product.

The Alfa600 has all the features and functionality of large scale state of the art chemistry analyzers like:
· Separate needles to avoid carry over.
· Mixers with adjustable speed to achieve proper reaction mixture.
· Less than 1 service call per year which keeps your service
costs low.
· Barcode reagent containers and sample tubes for convenient
and safe working.
· Allowing LIS connectivity under ASTM.
· User friendly intuitive menu guidance for ease of use.
· High quality Pyrex glass cuvettes to assure low CV% and
reliable results.
· Optional ISE with Sodium, Potassium and Chloride.
· Clot detection, liquid detection and crash detection.

Alfa Wassermann B.V. is able to provide you with a water purification system, AlfaSPRING 20, that guarantees ASTM II quality water to run the system, dilute necessary reagents and rinse your laboratory equipment.

The reagents for the Alfa 600 bear the CE mark. Calibrators as well as controls are available for all tests.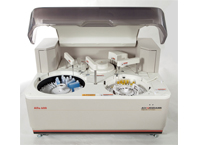 Available Reagents:
Routine Chemistry Assays
Albumin
Total and Direct Bilirubin
Calcium
Creatinine Jaffe, Creatinine PAP
Glucose PAP, Glucose HK
Inorganic Phosphorus
Iron
Magnesium
Total Protein
Urea / BUN
Uric Acid
Ammonia
Cholinesterase
Fructosamin
H-Butyrat-Dehydrogenase
Glutamate Dehydrogenase
Lactate
Lipase
Diabetic Assays
HbA1c

Enzyme Assays
Alkaline Phosphatase
Acid Phosphatase
a-Amylase
Pancreatic a-Amylase
Creatine Kinase
Creatine Kinase MB
Alanine Aminotransferase
Aspartat Aminotransferase
Gamma-GT
L-Lactate Dehydrogenase

Lipid Assays
Cholesterol
Direct HDL Cholesterol
Direct LDL Cholesterol
Triglycerides

Urine Testing
Ultrasensitive Protein
Micro Albumin Urine can be used for applicable Routine Tests.

Specific Protein Assays
Apolipoprotein A1
Apolipoprotein B
Complement Factor C3 c
Complement Factor C4
C-Reactive Protein
Hs-C-Reactive Protein
Ferritin
Myoglobulin
Immunoglobulin G
Immunoglobulin A
Immunoglobulin M
Lipoprotein A
Kappa
Lambda
Antistreptolysin-O
Rheumatoid Factor
Transferrin

Electrolyte Assays Direct ISE
Sodium
Potassium
Chloride

Therapeutic Drugs Testing (under development)
Phenobarbital
Phenytoin
Digoxin
Gentamicin
Valproic Acid
Carbamazepine

Drugs of Abuse Testing (under development)
Amphetamines
Barbiturates
Benzodiazepines
Cannabinoids
Cocaine Metabolite
Opiates
EDDP
Ecstasy
Ethanol
Methadone

Applications
Cupper
Bicarbonate
Total Iron Binding Capacity